Boost Your Lead Generation With B2B Audience Personas
B2B audience personas boost lead generation and help take your business to the next level. Your audience personas are central to your website design, social media marketing, email marketing, and content strategy. The integration of these components is what drives your B2B conversion funnel and lead generation.
While a recent report by Buzzsumo revealed that 85% of companies are using buyer personas for content marketing, a stunning 60% of those companies had no to very little understanding of buyer persona best practices.
Why this lack of understanding?
Companies don't have a clear definition of what a persona is.
Buyers aren't the only ones interacting with your brand.
Content marketing strategies may be failing because you aren't considering your entire audience persona.
So let's start with a definition.
What exactly is an audience persona?
An audience persona is a specific group of individuals interacting with your brand who possess an identifiable set of similar behavioral patterns, goals, skills, and desires.
Remember, it's important to know that a persona is more than just a set of demographic data points.
Personas reveal the behavior of that group ->
What actions are they taking with your brand?

Are they sharing or buying?

Are they engaging on your social channels, blog, or writing online reviews?

What stage are they on their brand journey?
By understanding your audience personas, you can personalize your interaction to meet the needs of that persona.   
People expect a highly personal and authentic experience with your brand. They want to find, share, and act with brands that speak to their unique situation. This personalization will better equip a website visitor, social follower, or blog reader to take action with your brand, effectively moving them through your lead generation funnel.
Where do we start?
We are going to start with 2 main segments of your audience: shares and buyers. 
Sharers
Sharers are your brand amplifiers and engagers. This B2B audience persona may never purchase your product or hire you, but they consistently share and engage with you and your business.
So wait…if they aren't buying, why should we pay attention to them?
Sharers grow your network, build your funnel, and increase conversions! (click to Tweet)
There are 3 ways sharers help you do that:
Social Sharing
Online Reviews
Blog Comments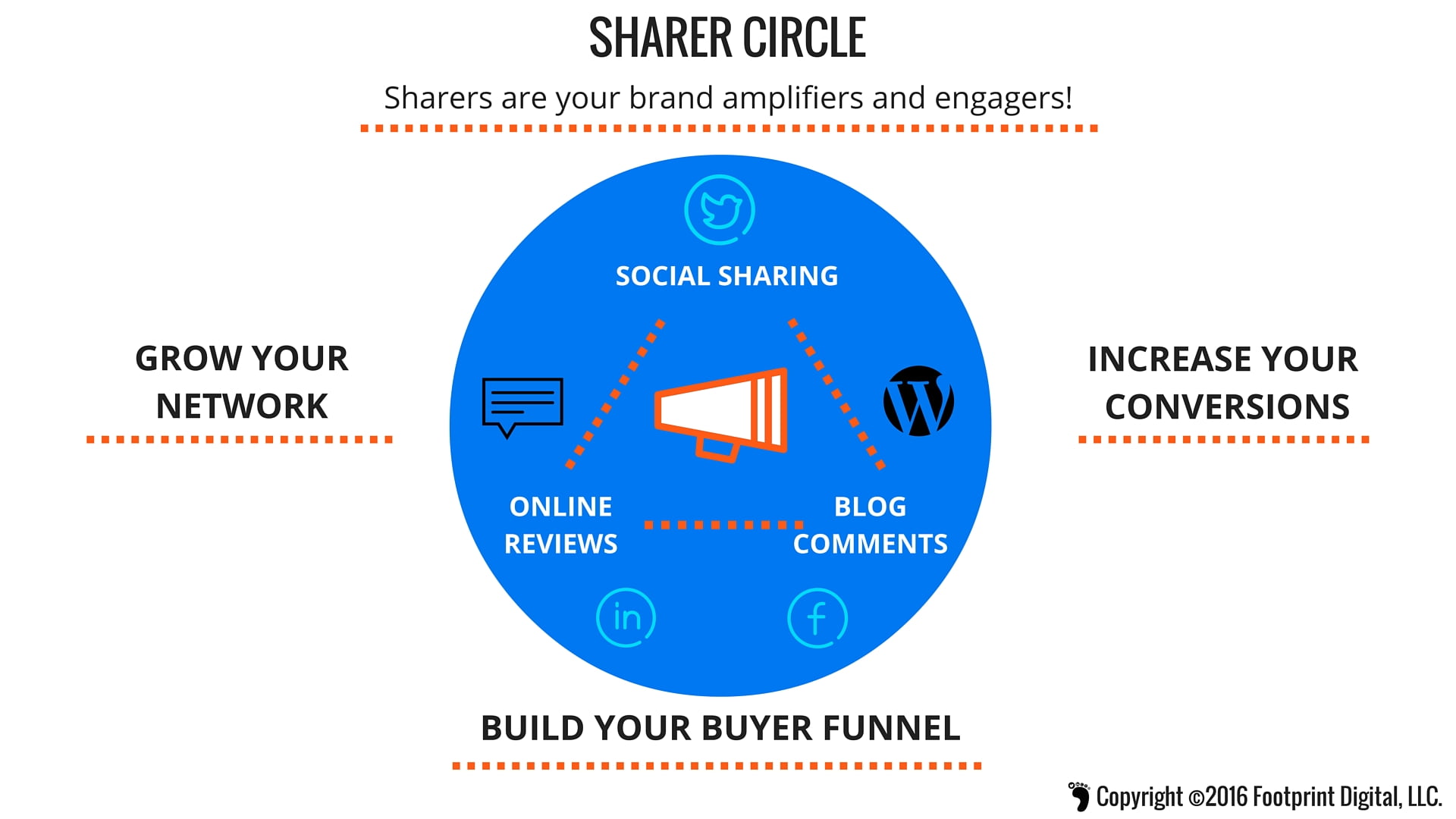 Social Sharing ->
In addition to building a social following, social sharing increases brand awareness and trust. Social referrals back to your website can boost web traffic and site ranking. With better ranking, your buyers have a better chance of finding you on the first page of search.
Social sharing can also catch the attention of other bloggers and sites, and you can earn precious backlinks – another rank booster.
Online Reviews ->
People are talking and reading about you and your business online. BrightLocal 2015 Local Consumer Review Survey reveals that 92% of consumers read online business reviews, with 33% of them reading on a regular basis.
Online reviews have a significant influence on consumer trust:
88% of consumers read less than 10 reviews before they make an opinion about a business.
68% say positive reviews make them trust a local business more.
80% will trust reviews as much as personal recommendations – if they meet their requirements.
48% will visit the website after reading positive reviews.
But sadly, for many of those headed off to visit your website, they reach a dead end…because you don't have a website!
A 2015 digital marketing survey conducted by Clutch found that 26% of small businesses still don't have a website, and 10% claim that their company is unlikely to have one in the future.
Without a website, you've eliminated a significant top of the funnel traffic resource with people who already have trust and are interested in your brand.
And customer reviews aren't just for building consumer trust and driving top of funnel traffic. Online reviews can also boost search ranking.
According to Moz's 2015 Local Search Ranking Factors report, online review signals ranked fifth among the most important search engine local ranking factors.
Blog Comments ->
High quality blog comments can improve the overall search ranking of your content. Relevant blog comments increase the length of your post and improve keyword variation, which help boost organic search traffic.
Sharer Personas
Now let's take a deeper look into your sharer personas and begin to understand their behavior, build relationships, and deliver the content they want, where they want, when they want.
Here's a sharer persona worksheet to help get you started:
Download Your Sharer Persona Worksheet PDF!
Let's break down your sharers into 4 main sharer personas:
Influencers

Industry Collaborators

Bloggers

Brand Advocates
Influencers ->
What makes someone an influencer?
A million followers does not an influencer make!
Trust, authority, and credibility are the traits of an influencer in any industry.
Whether it's an individual, brand, or media publication, influencers get the attention and accolades they do because they've earned "social trust" among their followers and fans.
Don't waste time chasing down influencers who are not aligned with your brand. Choose and engage with influencers who are influential to YOU.
Industry Collaborators ->
Connecting with industry collaborators is the bread and butter of your social networking, on and offline. Remember to consider closely related industries as potential sharing sources.
Bloggers ->
A blogger who talks about your brand is someone you want to make friends with, fast! The blogging world has evolved into a sophisticated, profitable, and global digital platform. Bloggers are often influencers, and typically very well connected with other bloggers and bigger media publications.
Brand Advocates ->
Brand advocates consistently share and engage with your brand on all your digital assets. From blog comments, LinkedIn shares, and RTs, brand advocates are passionate, vocal, and excited to communicate with you. Don't ever leave an advocate hanging. Acknowledge their engagement with timely and personal responses. They will greatly appreciate it!
Each of these sharer personas can be further segmented into smaller groups. For example, you can segment each sharer persona by:
Industry Type

Related Industries

Job Title

Location
Sharer Persona Activity
Let's check out what your sharers are doing!
What content topics are shared and talked about the most and the least on social channels?
Analyze what's happening on your social networks and tapping into your Google Analytics:
Twitter – Likes, RT's

LinkedIn – Shared updates, likes, comments

Facebook – Likes, shares, comments

Google Analytics All Traffic Report: Check out your social channels!
Acquisition -> All Traffic -> Channels -> Social -> Primary Dimension -> Landing Pages -> Secondary Dimension -> Source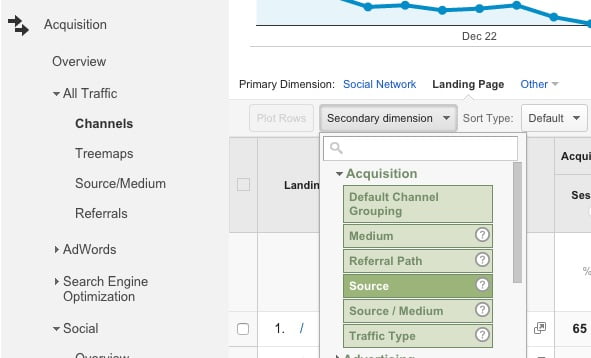 Tip! Create more of what they love. Re-evaluate content that's missing the mark, and either rewrite, retarget, or toss it out.
What are they saying about your brand – positive, neutral, negative?
People are talking about you and your brand right now, whether you like it or not. Don't miss out on this valuable source of audience feedback from online reviews and blog comments.
Tip! Comb through reviews and blog comments for relevant topics to write about. Answer questions in several content forms: blog, infographic, SlideShare, video, email.
What's happening on social channels?
Check out your Google Analytics Social Report for an in-depth look at how your social channels are performing.
Acquisition -> All Traffic -> Channels -> Social -> Primary Dimension -> Social Network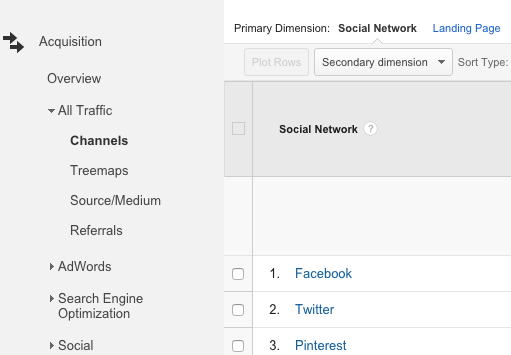 What are they doing once they get to the landing page?
Dig deeper and see what visitors are doing once they get to your page.
How long do they stay?

What's the bounce rate?

How many pages do they visit?

Do they convert?
Tip! Consider using paid ads for your top converting social network.
Make your move!
There are many ways to interact with your sharers. Appreciation and gratitude always go the distance! 
Say thank you – digitally and with ol' fashioned snail mail thank you note.

Join the conversation on social channels and reply to blog comments.

Send a copy of your book.

Offer an extended free trial of your product.

Reach out to influencers for guest blogging opportunities, interviews, other content collaboration.

Reach out to industry collaborators for agency partnership opportunities.

Offer a 60 minute consultation and answer their questions.
There are many ways to connect with your sharing audience. Remember, your sharers are critical to a successful lead generation strategy. A well cared for sharing community will support your buying community – which is where we're headed next.
Buyers
Buyers are actively looking for an answer to their problem. You have to be readily found and provide the best answer to their problem if you want to consistently convert leads into sales.
A lead properly nurtured throughout the sales cycle won't only become a customer, but a coveted long-term client with a high lifetime value.
Here's a top tip: 
"Specific content affects specific parts of the funnel." ~ Andy Crestodina
Understanding the goals and strategy for each part of the conversion funnel will help you create, distribute, and promote the right kind of content for your buyer personas.
Let's look at simple lead generation B2B buyer funnel:
Awareness

Consideration/Interest

Action

Retention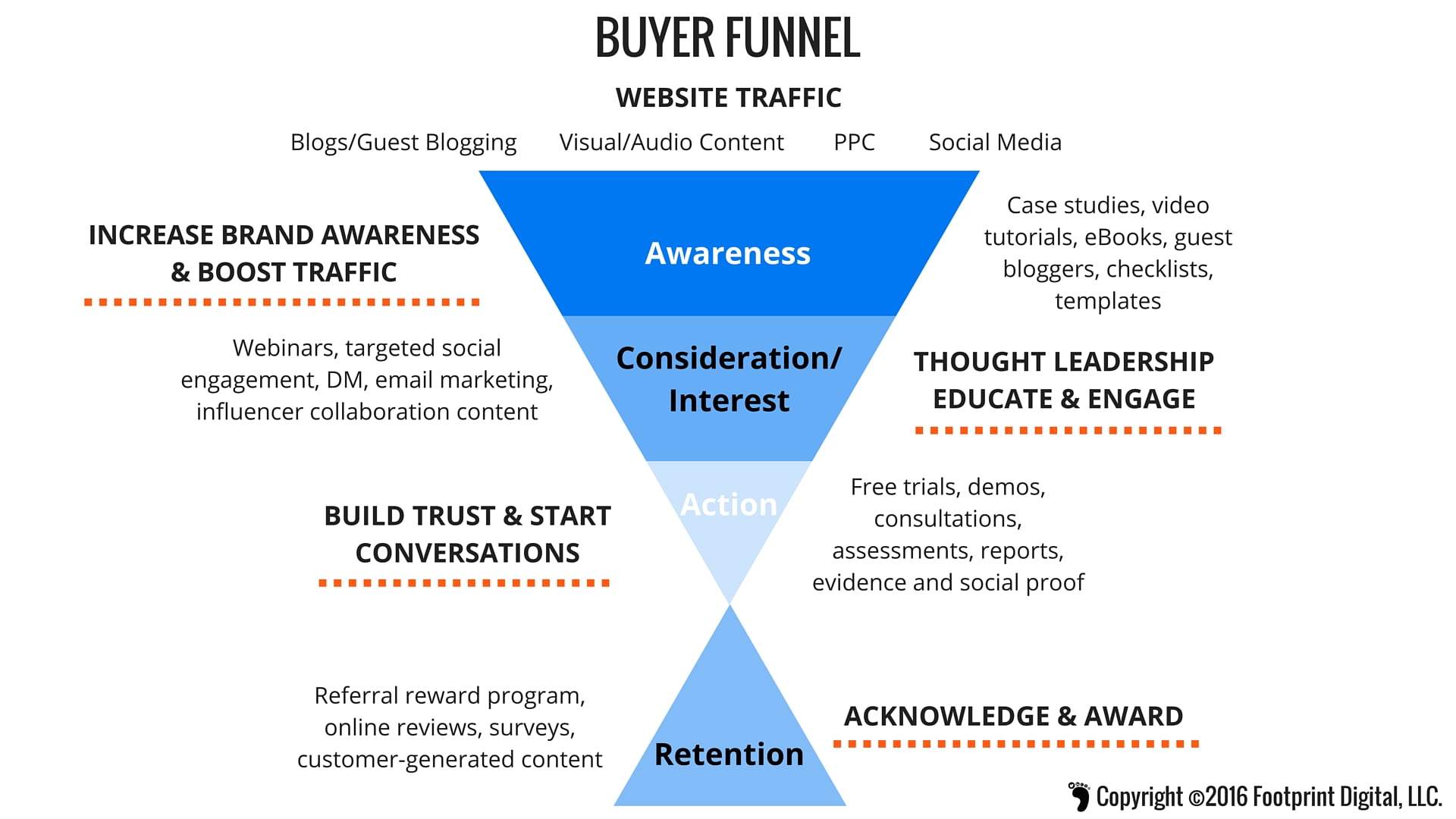 Awareness ->
The awareness phase sits at the top of the funnel. Organic, social, and paid search are your the 3 main sources of traffic to the top of the funnel.
Goal: Increase brand awareness and boost website traffic.
Strategy:
Organic Search

Optimized blog posts.

Strong visual and audio content.

Guest blog posts on high authority sites.

Paid Search

Optimized for relevant keyphrases.

Social Media

Share content on multiple social platforms.
Analytics:
Analyze traffic sources and visitor behavior from each source: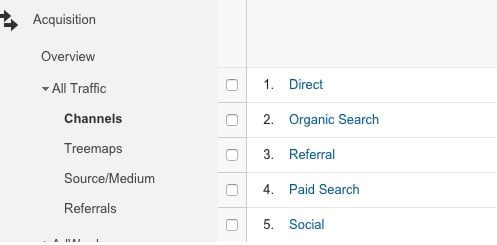 Choose one traffic source and see what visitors are doing on your landing pages from that source: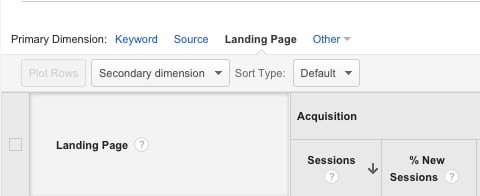 Analyze social network data:

Twitter – Likes, RT's

LinkedIn – Shared updates, likes, comments

Facebook – Likes, shares, comments
Consideration/Interest ->
The consideration and interest phase sits in the middle of your funnel. Remember that prospects aren't just considering you, they are also considering your competition.
This is where thought leadership can help your brand stand out from the competition, moving your buyer persona closer to conversion.
Goal: Thought Leadership -> Educate and Engage
Strategy:
Webinars

Targeted Social Engagement

Direct Messaging

Email Marketing

Influencer Collaboration Content
Analytics:
Create clear CTA's and analyze the behavior of your buyer personas for each strategy. Be sure to follow up and keep them moving along the buyer journey.  
Action ->
Now it's time to encourage your buyer persona to take action. Continue to build trust and start conversations.
Goal: Build trust and start conversations.
Strategy:
Free Trials

1-on-1 Demos

Complimentary Consultations & Assessments

Free Reports

Evidence & Social Proof

Continued engagement on all social networks.
Analytics:
Set up goals in Google Analytics to track your conversions.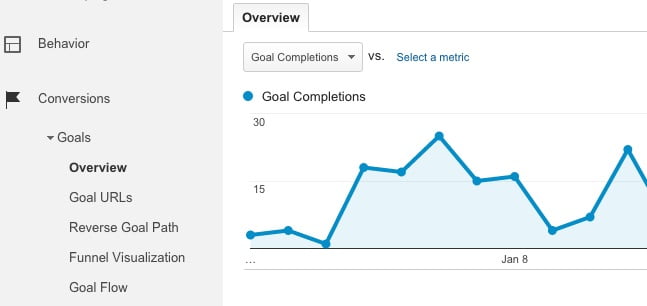 Retention ->
Your job doesn't end once the buyer makes a purchase. Continued engagement is critical not only retain your new customer for future purchases, but encourage feedback, referrals, and nurture long-term brand loyalty.
Goal: Acknowledge and award.
Strategy:
Referral Reward Programs

Online Reviews

Surveys

User-Generated Content
Buyer Personas
Buyer personas can be very complex depending on the scope of your business, product, and service. Going back to our intro, many companies have no idea what buyer persona best practices are.
That's because there is no one way to do it.
I recommend starting with a very basic breakdown of your personas. You can add on layers of complexity as you go along. Begin with a solid foundation and build from there.
Here's a simple buyer persona worksheet to help get you started:
Download Your Buyer Persona Worksheet PDF!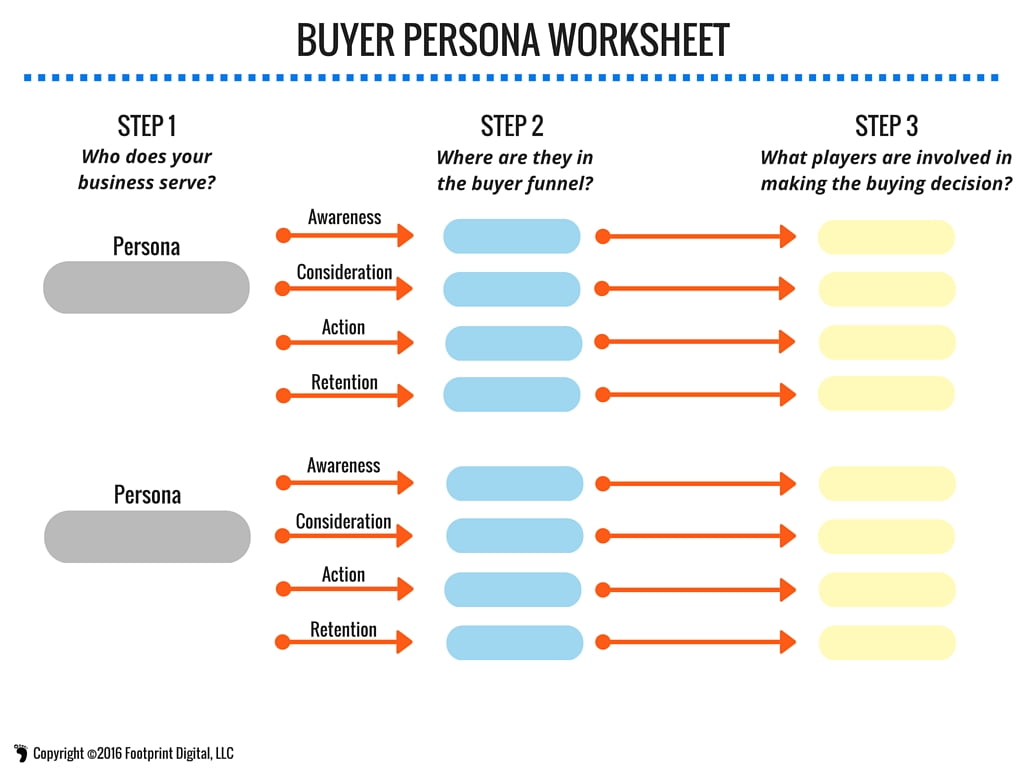 First, look at the various industries that use your service or product. For example, an accounts receivable company has 3 main buyer personas they serve: staffing agencies, manufacturing, and food & beverage.
Let's take staffing agencies and break down this buyer persona according to where they are in the lead generation funnel:
Awareness

Consideration/Interest

Action

Retention
Now let's think about who the buyers are in each part of the funnel. According to Moz founder Rand Fishkin, the majority of B2B transactions don't just have a single buyer. Be sure to map out every individual involved in making the buying decision.
Understanding how to use B2B audience personas to boost lead generation takes time and elbow grease. But it's also going to be the rocket fuel that takes your business into the next stratosphere! 
Next, we'll dig into the details on how to create and deliver that winning content to your B2B audience personas. Stay tuned!
Did you find this article helpful? How do you use B2B audience personas to boost lead generation?
Leave your comments below or reach out to us with your questions. We'd love to hear from you!